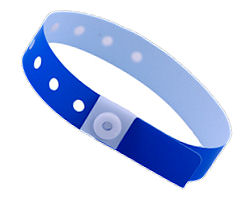 ENTRY FEES

Gates officially open Thursday
June 9th 2016 at 8am.

Armbands $50 for weekend
(Thursday-Sunday)




EARLY BIRD CAMPING SPECIAL Gates will open Wednesday, June 8 2016 at 8am for Early Bird Camping. You will be assessed an extra $10 to come in on Wednesday. Gates close at 11pm Wednesday night and re-open Thursday morning at 8 am.

Support Vehicle pricing will remain the same for all days.




PLEASE FAMILIARIZE YOURSELF
WITH OUR HOGROCK GUIDELINES


All bikes welcome!
You must be at least 18 to enter. (photo ID may be required)
Lots of tent camping area is available. (No extra charge for tent camping).
Plenty of camping room for Non-Electrical RV/Campers. Generators welcome, just be considerate of your neighbor. (No Reservations needed)
The event is BYOB. There is a package store located in Elizabethtown, 14 miles away.
Ice is sold on premises.
No glass bottles in stage areas.
People and Bikes only in stage/vendor areas.
For everyone's safety please keep non-motorcycle vehicles (cars and trucks) parked once in the campground. Due to alot of pedestrian and motorcycle traffic, we ask you to not roam the campground.
Hot showers are available.
Campfires are allowed. Firewood is available for sale, but you may bring your own firewood if you wish.
Port-a-potties will be located in abundance throughout the grounds.
No ATV'S, Gators, Mules, etc. If you don't want to be disappointed that you don't get to ride it, don't bring it! Violators will be asked to park it or leave.
NO Pets, NO Colors Worn/displayed, NO Weapons, or NO Attitudes.
Bike unloading ramp is available.
HogRock Swimming Hole!!!! No Life Guard on Duty, so swim at your own risk. Swimsuit optional!!!
Remember, your picture may be taken by fellow rally goers......so, if you don't want anyone to see it later, don't show it now.
Have Fun and Ride Safe! (Be sure to follow traffic rules on the way in!)
CAMPGROUND MAP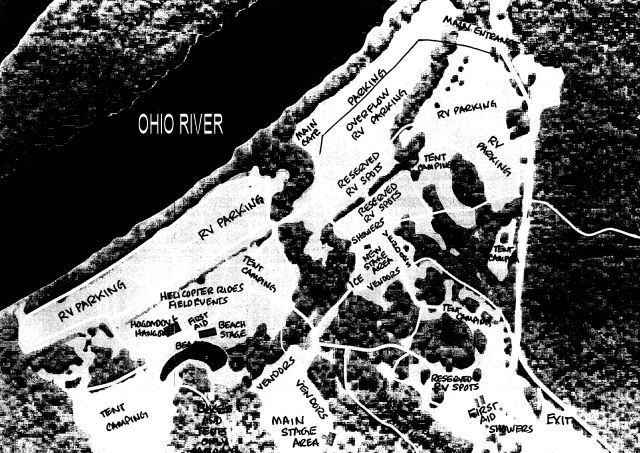 SUPPORT VEHICLE FEES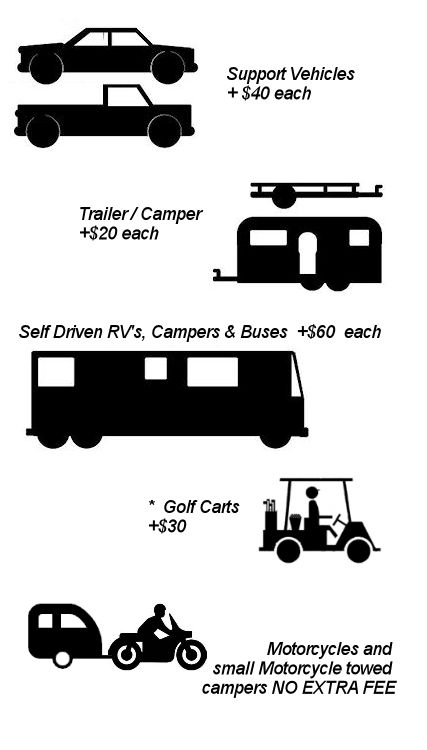 * Golf Carts welcome but are required to :


Adhere required sticker
Stay on roadways
Park only in designated areas i.e. Main Stage Areas, Beach Area
Not Speed
Have headlights and rear reflectors for night travel.
Give right away to Pedestrians and Motorcycles.

**Violaters will be asked to park golf cart for remainder of party**



RV HOOKUPS

At this time, any remaining RV sites with electric and water will be sold on a first come basis at party in June.

Just FYI....spaces with electric and water are $250 for June party. Electric is 30 amp at 110v. Water spigot may be shared, so hose Y is recommended. No sewer at site. Two Dump Stations Available or can be pumped by Porta Potty Vendor during party for an extra charge.

Remember, there is plenty of room for RV's without electrical and water and plenty of tent camping. An RV water fill up station available in the campgrounds. Generators welcome, but please be considerate of your neighbor. These spots do not need to be reserved.